January 27, 2022
A Q&A with Sarah E. Charnes (PhD '21)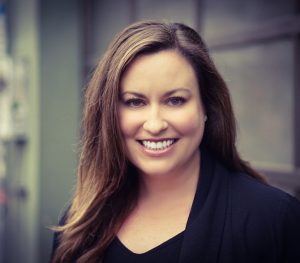 Sarah Charnes finished her Ph.D. at the Evans School in December 2021, where her dissertation research focused on food assistance and food insecurity. The Evans School caught up with Sarah recently to talk about key findings from her research. 
Your dissertation focuses on food assistance policy and food hardship in the U.S. — what drew you to those policy research areas? 
Before starting my Ph.D. at the Evans School, from 2006 to 2013, I worked as a macroeconomist in the Office of Economic Policy at the U.S. Department of the Treasury in DC. While there, I worked on a wide variety of topics, including income inequality. When I decided to return to school for a Ph.D., it was with the intention of taking a deeper dive into issues of income inequality. At Evans my work around inequality initially focused on social policy and means-tested public benefits. Over time, I realized that my long-standing interests in food behaviors and my training in holistic health counseling gave me unique insights into the realities of food assistance and food insecurity – timely social policy topics.  
Given your work around food assistance policy, what are some of the biggest misconceptions Americans have around food assistance and food hardship? 
First, I would say the common belief that food insecurity "isn't a problem in the United States" and that it's only a problem in developing countries, which means it's not a problem worth addressing through public policy solutions. To the contrary, the most recent estimate by the U.S. Department of Agriculture's Economic Research Service estimates 10.5 percent of U.S. households are food insecure. That translates into 13.8 million households, which is a large number. The national food insecurity rate reached as high as 14.6 percent during the Great Recession. Those estimates are only the tip of the iceberg, which make food insecurity in the U.S. a problem worth investigating and addressing. 
There are many other misconceptions around food assistance and food hardship that come to mind. What I have observed over the past several years is that food assistance and food hardship is a space where people often have a hard time getting past their own personal beliefs  – especially if they haven't experienced food insecurity or witnessed it first-hand. For example, if someone becomes convinced that SNAP (the Supplemental Nutrition Assistance Program, the modern-day food stamp program) recipients are prone to commit fraud, it can be very challenging (if not impossible) to change that person's mind. In reality, fraud is very uncommon. 
Another misconception is that there is a one-size-fits-all, or simple, solution to food insecurity. Food insecurity arises out of a wide array of risk factors operating at different tiers. Short of creating a form of universal income for food consisting of an adequate benefit level, it seems likely that there will need to be a continuation of a rather complicated, multi-pronged approach to tackling the problem of food insecurity through public-, nonprofit-, and private-sector efforts. That said, the idea of universal income for food has gotten some traction recently, so it's possible that a policy window for this could eventually emerge. 
As you reflect on the dissertation project, which research findings stand out to you as really important for current debates around food policy? 
My dissertation involved three papers that covered a fairly broad range of topics related to food insecurity and food and nutrition assistance policy. The first paper evaluated a program designed to streamline the SNAP application process for recipients of Supplemental Security Income and found evidence suggesting that different modes of implementation for the program were more effective for some subpopulations than others – a point that does not always seem to be the primary focus when interventions are designed to try to improve access to means-tested benefit programs. The second paper tested the extent to which a relatively holistic measure of food access moderates the high degree of association between household disability and food insecurity status. Here, I find that access does not account for much of this relationship (Note: this paper has been accepted for publication in Physiology & Behavior and can be found online here.) The third paper examined acquisitions of free food – food having no price attached to it, such as meals from family or friends – as a function of the amount of time that has passed since a SNAP household received its last benefit payment. In this paper, I find little variability in the acquisition of free food across the SNAP month. This has potential implications for current debates about the behavioral mechanisms driving what is referred to as the "SNAP cycle," where benefits are typically redeemed in their entirety within the first few days of receipt, rather than being consumed in a smooth fashion across the month as some might expect. I'm excited to dive deeper into the third paper, in particular, as I progress forward with the portions of the dissertation that I have not yet attempted to publish. 
Prior to finishing your Ph.D. at Evans, you worked in the Department of Treasury. Given your experiences in both worlds – how can researchers do a better job of presenting and translating their research for policy audiences? 
Presenting and translating research to policymakers really comes down to one skill: learning how to say what you want to say within 30 seconds. By "30 seconds," I truly mean 30 seconds. That is MUCH easier said than done – and a skill that does not always seem to be very highly valued within academia. 
I think a great way to practice is to create two or three "highlights" (i.e., brief bullet/talking points) about one's research – as is asked for by several peer-reviewed academic journals upon submission. Bonus: this encourages clear thinking all around, which is never a bad thing. 
What's up next for you? 
Currently – meaning, from January through June 2022 – I'll be an instructor in the Evans School's MPA program. Specifically, I'm teaching both of the quantitative analysis courses in the first-year core course sequence, with which I was heavily involved during my Ph.D. (as both a pre-doctoral lecturer and a teaching assistant). I'm really happy to be working with this year's first-year cohort. I'm also currently on the job market for longer-term employment. Please cross your fingers for me! 
Fingers crossed!  It sounds like there are lots of good things in the future.  Thanks for chatting! 
Thank you!