January 25, 2021
Supporting educational advancement and promoting economic empowerment to communities of color at large: A Q&A with Lizzie L. Evans Martinez Alvarez (EMPA '15)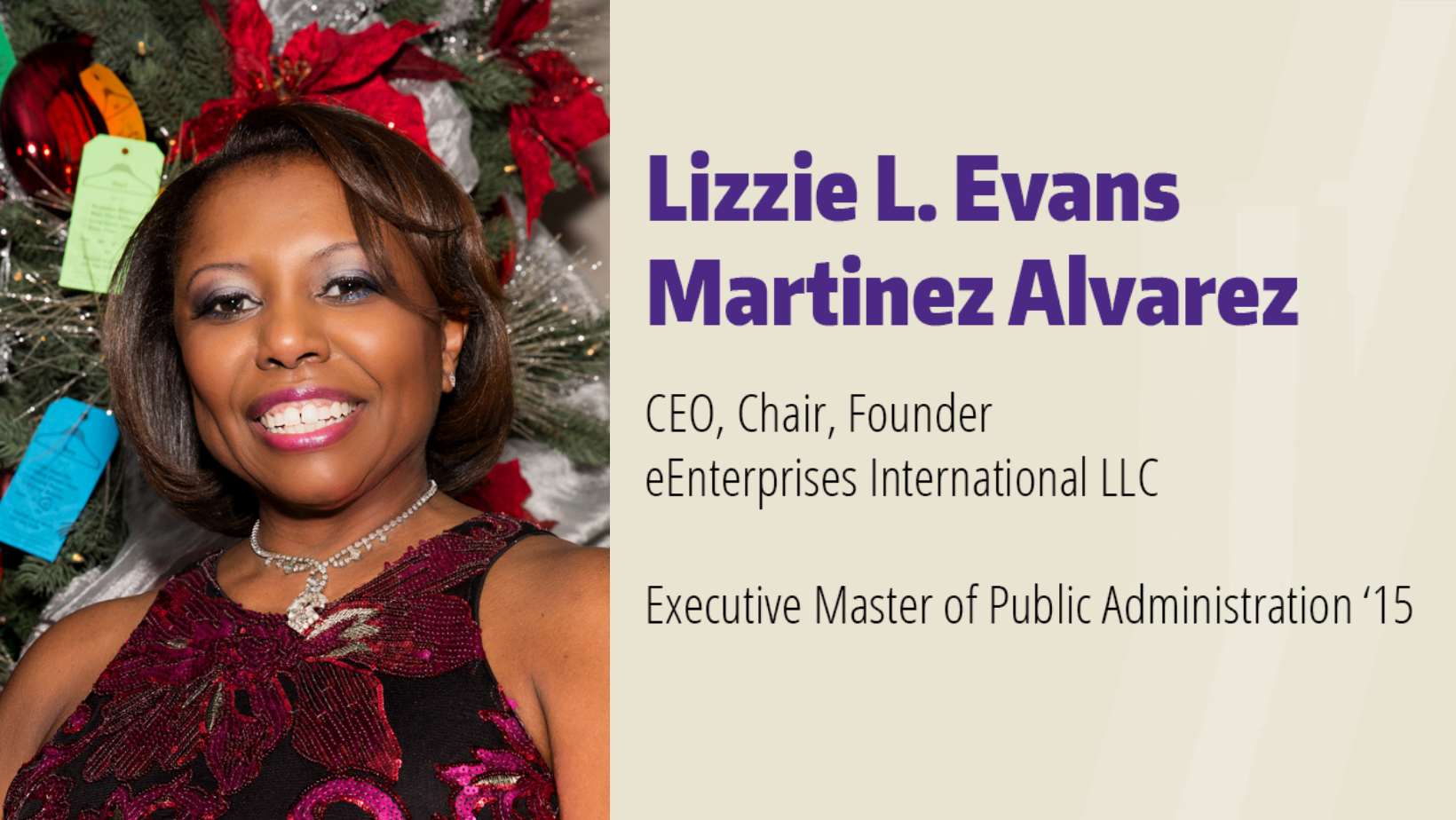 As a child, what did you want to be when you grew up?  
I started working when I was nine years of age picking peas on a sharecropper's farm in East Texas. I was always playing banker with the younger siblings, trying to teach them how to save their monetary gifts and earnings. They trusted me because I always carried pocket change from working various odd jobs in the community. I was a natural born entrepreneur, always Enterprising for Profit$. Learn more about my passion for financial literacy.  
How might that childhood Dream Job relate to what you do now?  
I created eEnterprises with the intent of leading a change within the community by sharing what I have been learning and discovering in my experiences in business, education, and life. My goal is to help students and young entrepreneurs discover their full potential in a manner that makes it more equitable for everyone. I now focus tirelessly on my volunteer work to empower youth in high schools by teaching financial literacy, entrepreneurship, and digital tools for businesses in the modern world. Serving as a Director-at-Large on the board of the Association of Federal Deposit Insurance Corporation Alumni, I continue to assist the Federal Deposit Insurance Corporation (FDIC) in expanding the Money Smart Financial Literacy program to the underserved youth and BIPOC communities. 
What motivates you to get up in the morning and bring your absolute best to work every day and what is something you have been most proud of, professionally?  
"Nothing Beats a Failure but a Try," an infamous quote of my late mother Dora Lee Evans, is the fuel to my flame. I received my commission as a bank examiner with the FDIC at age 36. Why bank examiner? Perhaps it was a rocky transition from childhood to adulting. For many adult years, I struggled with handling my personal finances. The financial illiterate "aha" moment did not come until I started volunteering with the Urban Financial Services Coalition – Los Angeles Chapter and teaching the importance of the FICO [credit] score at inner city high schools. One day while teaching credit awareness at Crenshaw High School in Los Angeles, CA, I realized the importance of assessing your needs versus your wants. It finally dawned on me that I did not have a budget, or a balance sheet, and I had 21 credit cards with balances. The experience from examining FDIC insured financial institutions prepared me to self-examine my own personal financial performance. In accordance with the Uniform Bank Performance Report, I received a "5" rating (the poorest) in the earnings, capital, and asset quality performances. I will not quit until I reach a FICO score of at least 750.
You've been a champion of Diversity, Equity and Inclusion throughout your career. Can you share how you are continuing to promote Diversity, Equity and Inclusion in your work and why?   
I received several distinguished awards of recognition for serving on the FDIC Chairman's Diversity Committee throughout my 11-year stint. Since retirement from the FDIC in March 2009, I have volunteered tirelessly—providing professional development programs, supporting educational advancement, and promoting economic empowerment to communities of color at large. I earned an Executive MPA degree from the Evans School in 2015. In this program, I researched and wrote a policy paper titled "The Importance of Financial Literacy in Washington K-12 Public Schools." The policy content is reflected in SSB5202 legislation signed by Governor Inslee on May 8, 2015 – which happens to be on my birthday. 
Since May of 2015, I have been serving on the Financial Education Public Private Partnership Education Committee under the direct supervision of Dr. Pamela Whalley. I am taking my financial skills, abilities, and knowledge to deliver financial education to at-risk high school students and collegiate youth interns throughout Washington State and abroad in Ghana, West Africa. I serve as the Executive Director of the Financial Services Coalition, a 501(c)(3) co-founded in 2008 with intent to offer a public service to disadvantaged communities. The FSC-PS Charitable Foundation is now partnered as a professional affiliation of the UW Hubert H. Humphrey Fellows.
How does your Evans education impact how you approach your work today? 
The Evans School's education has positively impacted my personal values by forcing me to discover my core strengths. The invaluable work experience with cohorts from various sectors taught me how to collaborate and lead across boundaries. The nonprofit management knowledge expanded my bandwidth to research socioeconomic cures and ills using cost benefit analysis. The tools acquired during this accelerated 18–month study has help my organization to effectively deliver public services to BIPOC communities. Not only am I better suited to lead organizational change development in the 21st Century, but I now have an insatiable appetite for continuous improvement. 
As you pursue your Doctorate degree in Higher Education Leadership at the University of Texas at Austin, what kind of research are you particularly interested in exploring?  
I am a first-generation learner (spanning from 400+ years of lineage) to obtain a higher education graduate degree with all rights, privileges, and honors pertaining thereto. While escalating from racial disparities and climbing to reach the pinnacle of corporate America, I realized the importance of Paying It Forward. I have overcome the barriers of systemic racism and workplace discrimination throughout my entire working career, ultimately peaking as a retired commissioned bank examiner at the FDIC.  
In 2021, my servant leadership journey expands in bridging a pipeline for K-12 students to achieve higher education. STEM Pathways to Success is my doctorate mantra. I plan to research structural change in educational institutions through the lens of social justice, diversity, equity, and inclusion. Some of the key competencies that I will gain from studying Educational Leadership and Policy in the Ed.D. program at the University of Texas at Austin are listed below:   
Social justice, inclusion, and equity foundations

 

Assessment, evaluation, and research

 

Law, policy, and governance      

 

Organization and human resources

 

Leadership

 

Student success and learning  

 

Technology in education 

 
Dismantling racism in higher education is the key to unlocking the foundational freedoms that we all deserve and seek. It is time to heal the wounds from the past and enter the realm of equity, prosperity, and justice for all.
If you could give Evans School students one piece of advice, what would it be?  
Take the "Road Less Traveled," for it is not trodden and leads to boundless possibilities. If you want to make impact in 2021 and beyond, you must choose "The Road Not Taken" as quoted by poet Robert Frost. Discover your purpose and dare to do so something different from other people. Lead Change! 
We'd love to learn more about you and your tremendous contributions to the public good, so we can share your story as we connect, learn and reflect. Share your story!