February 28, 2022
Ensuring Washington Nonprofits Thrive: A Q&A with Elyse Ke'ala Rickard
Elyse Ke'ala Rickard: Membership Manager, Washington Nonprofits
Elyse Ke'ala Rickard (MPA '18) is driven by a passion for equity, justice, and service. As the Membership Manager at Washington Nonprofits, she works to ensure that nonprofit organizations in Washington have access to the resources they need to prosper.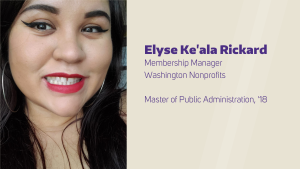 What contributed to your decision to pursue a career in support of the public good? Was there a defining moment in particular?
I grew up in the Los Angeles Harbor area in a blue-collar union family, where I learned to identify how different institutions perpetuate racist, sexist, and classist policies and was encouraged to speak out against these injustices. As I moved through my higher education journey, I majored in sociology and knew that I wanted to enter a field that worked on addressing and dismantling inequities through structural change. During my senior year of undergrad, I had a mentor who was also a Pacific Islander woman and a first-generation student who encouraged and supported me in applying to graduate school. Because of the support of my family and other BIPOC mentors, I wanted to pursue a career that builds upon the work of those who came before me and continue to carry on their work of creating a more equitable society.
Can you share a bit about the work you are currently doing and what a typical day in your work looks like?
I was promoted to Membership Manager at Washington Nonprofits earlier this month and have been with the organization since August 2021. Right now, my work focuses on fostering relationships with our current members and connecting with other nonprofits across the state who may benefit from being a member of our organization. My daily work is composed of providing assistance to our members (that could range from membership renewals, answering questions about member benefits, etc.), promoting our programs and events, and working with colleagues on how to increase access to memberships for nonprofits across the state.
What's one thing you want everyone to know about your work?
I believe that listening to my intuition has helped me to carve the professional path that I am currently on. If you are doing work that you do not feel connected to or does not align with your values or goals, do not be afraid to speak out or seek out new opportunities that will allow you to grow.
Looking back on your time as an Evans student, do you have any memorable experiences that really stand out to you?
To be honest, I've had a variety of experiences at Evans. I met people who are now lifelong friends, learned skills that I sought out, and conducted an impactful capstone with colleagues, which is currently being used in a lawsuit to address racial and gender inequities in the Seattle Parks and Recreation department.
I also faced barriers that graduate students from historically marginalized communities must navigate, including speaking out against curriculum and practices that perpetuate white supremacy. I remember a meeting that I and four other students held with a professor to discuss how they framed the Department of Justice's report for the City of Baltimore's police department—their framing felt insensitive to BIPOC students because they did not want to address the historical impact of race and policing. I remember having another meeting with a white professor who had a kapa moe (Native Hawaiian quilt) in their office who was teaching about Indigenous environmental policy who told me they would not, and did not, want to discuss Native Hawaiian environmental issues. However, despite these difficulties, I was able to connect and build relationships with other students, faculty, and staff who did advocate and support for marginalized people in our program and that is something that I will always remember from my time as a student at Evans.
How does your Evans education inform how you approach your work today? Are there 2 or 3 things that directly impact your work?
My time at Evans has heavily influenced my career path. I work in an organization that focuses on providing nonprofit education courses across the state, which I feel is a continuation of my own education as well. I have worked on projects where I utilized my analysis and evaluation skills, ranging from implementing new systems, improving administrative procedures, and conducting policy research. Finally, the most important skill that I have learned from Evans is project management because I am collaborating with other people and entities frequently, which includes keeping track of several tasks and deadlines, as I did in most classes during my time as a student.
In what ways are Diversity, Equity, and Inclusion part of the work you have done and continue doing?
As a mixed Native Hawaiian/Latina woman, holding these identities radicalized me from a young age to speak about racism and other societal inequities. During my undergraduate years, I took part in student organizing around a variety of issues and worked in positions that focused on providing support to other BIPOC students.
While at Evans, I became involved in Evans People of Color and worked with other Student Interest Groups (SIGS)–later known as the Coalition–to organize around addressing issues within the Evans school and public policy issues beyond the campus. I am proud of my colleagues, the alumni who laid down the work before us, and the current students who are continuing the work to create a more equitable environment for Evans 'students and beyond.
In the work that I currently do, there are a lot of nonprofits in Washington State that are doing amazing things in their communities, especially those whose work is guided and led by marginalized communities. However, there are several barriers that these organizations face, which can hinder their growth and ability to provide programs or services they are offering to their constituents. Some of these barriers can range from lack of financial resources to unclear guidance from local, state, and federal partners. I hope that in my role I can serve as a point of contact for people to access the resources they may need so that these organizations can continue to focus on serving and thriving in their communities.
What are 1 or 2 resources (books, articles, podcasts, websites, TEDtalks, etc.) that inspire you personally or professionally?
I recently finished "From a Native Daughter" by the late Dr. Haunani Kay-Trask. As someone who is a mixed Native Hawaiian woman, I have felt, seen, and heard many of the things discussed in her book, especially in the latter half, where Dr. Haunani Kay-Trask discusses her experiences with the University of Hawai'i. I feel inspired that her work remains relevant in 2022 and will continue to do so beyond my lifetime. I am also very into listening to podcasts and a favorite of mine that I recommend to folks is Code Switch by NPR. Every week they focus on a different story, connect the story to larger themes of race, and connect listeners to resources they can follow up on if they want to learn more about that week's topic.