As a WSG Hershman Fellow, Allison will support the Northwest Seaport Alliance's air quality and sustainable practices team with their climate and zero emission commitments.
Allison Lu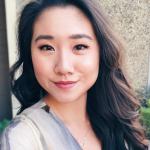 Allison was born and raised in the Seattle area and grew up playing on Alki beach, kayaking across Lake Sammamish, and sailing around Puget Sound with her family. She spent her summers studying abroad and eventually moved to the United Kingdom to pursue her bachelor's degree in law at University College London. After graduating, she moved to Southern California to be the primary guardian for her teenaged sister. She had developed a passion for environmental law throughout her undergraduate studies, so after her sister left the nest, Allison decided to pursue a master of public administration, concentrating in environmental policy, at the UW Evans School of Public Policy & Governance. During this time, she also worked as the nonprofit coordinator at the Washington State Parks Foundation. Throughout her academic work in and professional experience in outdoor recreation and conservation, she knew she wanted to pursue a career in marine and coastal policy, specializing in natural resource management.
Congratulations, Allison!