We recently had the opportunity to sit down for an interview with current MPA student Absa Samba to learn more about her work leading the Washington Coalition to End Female Genital Mutilation/Cutting and their major legislative victory this session – the passage of Washington's first bill to protect children from this practice, support those who have experienced FGM/C, and educate communities and service providers.  
First, can you tell us a bit about yourself? What led you to pursue an MPA at the Evans School? 
I'm an international student from The Gambia, pursuing a Master of Public Administration and a Master of Social Work. Over the years, I've engaged in work and advocacy at the community level, and I've seen how policies can be detached from local, everyday realities – I've been frustrated by this. I became interested in better understanding how policy formulation works and to be involved in the process. That is what brought me to the MPA program – the disconnect I've seen with how policies are shaped and how they impact individuals and communities. I want to see policies work better for the people and communities I serve.  
You've been involved in an effort to bring forward legislation pertaining to female genital mutilation/cutting (FGM/C) in Washington State. Can you share more background about your involvement in this cause and the work that led to introducing legislation this year? 
I am a survivor of female genital cutting, and, for so long, I didn't understand why anyone would be subjected to this harmful practice. In middle school, I had the opportunity to be trained on gender equity. For the first time, I had language for what was happening around me—the social and gender inequities in my society. I always felt it, but I now had a better understanding of the issue, and it changed my life. From then on, I started doing a lot of advocacies around education for girls and against harmful cultural practices like FGM/C.  
When I moved to the U.S. in 2016 to pursue my undergrad at Champlain College in Vermont, I was invited to classrooms to present on FGM/C, and I realized I needed to make the issue make sense to people here. Through research, I found out that FGM/C is an issue in the U.S. with at least 500,000 women and girls at risk. I made sure my presentations touched on FGM/C as a global issue by focusing on what it is in The Gambia, U.S. and globally. It was through those presentations that I was eventually introduced to a Senator in Vermont in 2019. At the time, Vermont, like Washington, did not have a law addressing FGM/C. I would later testify to the Vermont Senate Health and Welfare Committee on why the state should end the practice and why a preventative approach can help empower communities. In 2020, Vermont would pass a law prohibiting the practice of FGM/C. Later that year, I was invited to join the Connecticut Coalition to End FGM/C which aims to get the state to end this practice, and I continue to work with the coalition there to date.  
During my spring quarter of the MPA program at Evans School, I took the policy analysis core class. We were put in small groups to work on a policy issue. Since I had knowledge of the issue of FGM/C and experience with it—my own personal and advocacy work experience—my team agreed to make this the focus of our project. We set out to research what the status of FGM/C is in Washington state. We found that Washington state is ranked the eighth highest risk state for FGM/C in the U.S., and that the Seattle-Tacoma-Bellevue metro area is ranked the fifth highest risk city in the U.S. with an estimated 25,000 girls and women at risk of or have undergone FGM/C. We also found that there were two bills introduced in the Washington legislature to address FGMC, but they hadn't made it out of committee.  
Stephen Kosack, our professor, gave us feedback to research why those bills had failed, and, through this research, I connected with Senator Karen Keiser. She introduced a bill in 2019 but couldn't get it out of committee due to some opposition from affected communities. Through my conversations with the senator, I saw a desire from her to do something about this issue, and to do it right. I decided then to take my work from a class assignment to actually implementing the project. I seized the opportunity – I offered to do a presentation on the issue in Washington, and she took me up on it.   
Senator Keiser invited other senators who chairs various committees to attend the presentation. I knew then that I needed to invite other people to join me in this space and present alongside me. I invited Bettina Shell-Duncan from the UW Department of Anthropology, who has 25 years of research on this subject, and Mariya Taher who runs an organization called SAHIYO. We did the presentation, and, afterwards, we decided we needed to keep the conversation going. We started to invite more and more folks, and it became apparent that there was a desire across the board to address this issue in Washington.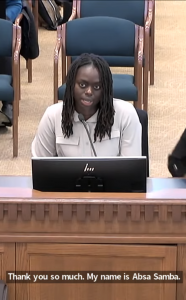 Personally, I wanted to make sure the voice and needs of individuals and communities impacted by this issue were informing the policy. This goes back to my desire to see policy, from design to implementation, support the best interest of those it's intended to serve in the first place. We started a coalition of survivors, advocates, legislators, researchers, and national and local organizations to ensure we had an active say in how the bill was crafted. Sen. Kaiser was really generous in making sure the bill contained what we wanted – we had full say on what should and shouldn't be included in the bill. The coalition itself became survivor-led, which was why it was successful.  
With this approach, it became really exciting to see the support this bill has received. Communities that opposed previous bills joined our coalition to work on this one. Lawmakers have shown their support too—the bill had a unanimous vote in the Senate and a 95 to 1 vote in the House. We also did extensive advocacy during the legislative process, submitting oral and written testimonies to get legislators to see why they should support this bill. 
What are you and your fellow advocates hoping to accomplish with this legislation? 
We wanted a holistic approach to ending the practice of FGM/C in Washington state. We were particularly concerned about a potential law that would contribute to perpetuating the existing inequities in the criminal legal system—we wanted a bill that empowered our communities rather than disempowered them.  
We were successful in getting an FGM/C bill passed that prohibits the cutting of a female minor and allows for civil remedies. It also included a statute of limitations allowing a person up to 10 years after to bring civil action against a cutter or 10 years after their 18th birthday.  
The most crucial part of the bill is its education and outreach component which is intended to help communities across Washington State learn about the issue and support those that have been affected. This component will support education for medical practitioners, teachers, first responders, and service providers to help identify those at risk and to better provide care for survivors. The bill also mandates that the state Department of Health is responsible for the implementation of this provision. I believe this to be the most important part of the bill because there is a culture of silence across the board on FGM/C in Washington state. This bill presents an opportunity to have conversations in our communities and workspaces toward ending FGM/C and making sure survivors are accessing the support and care that they deserve. 
What have you learned from navigating the legislative process to date? In what ways has your Evans School experience informed this work? 
During our class project, we had to identify the various stakeholders affected by FGM/C, what levels of engagement they should have in addressing the issue, and the powers they hold. That helped me to understand who needed to be involved in this process and what voices need to lead the work. I learned why coalitions are important and the power that they have to make meaningful change. Dean Jodi also gave me great advice to start thinking about what implementation looks like to make sure we protect the integrity and intent of the law once passed. This led our coalition to connect with the Department of Health – as the bill mandates, they are responsible for the education and outreach component.  
The biggest lesson I've learned is the value and power in having individuals and communities, who a policy is intended to serve, lead the work in shaping the change. In this case, through this approach, we were able to get allies in spaces where it was least expected. We also were able to get a policy we can all be proud of because it will leave communities and individuals empowered.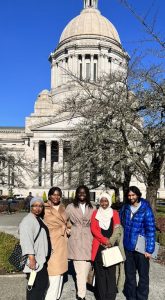 Another lesson I have learned is the importance of consensus building in this work. I went into this process with view of how easy it would be to work with a coalition of people who all share a common belief that this practice should be prohibited. But as our coalition grew larger, we had a challenge – we all strongly believed that FGM/C should be banned but had disagreements on what approach we should take. As the facilitator, I also had the responsibility of making sure everyone felt like they were heard and that their opinions are valued, which made it even harder. So, as you can imagine, it took a long and necessary amount of time to talk through the various options and come to a consensus as a group to help us move forward in this work together. In the end, everyone was happy with the decisions that were made. It was challenging and frustrating, but I learned that this is a necessary part of the process. 
I also learned the value of self-care. This work comes with a hidden cost which takes a mental and emotional toll on the people who do it. For many of us, it is our personal and lived experiences that we are using to make the change. The emotional and social implications are huge for many survivors who engage in this work. Which is why compassion is also a big part of the work. No one that did this work with our coalition was paid, and people gave their time, stories, expertise, and resources generously.  
We were driven by the desire to see a Washington state where future generations of girls and women will be protected against FGM/C.  
What's ahead for you? What do you envision doing after you graduate from the Evans School? 
I am not sure! I want to have a meaningful impact in the world, and I have a desire to see a world where people can be their whole selves. That is the type of work I want to do. 
If you'd like to learn more about protecting children in Washington State from FFM/C, you can view this webinar produced by the Washington Coalition to End FGMC. You can also follow the WA Coalition to End FGM/C on Facebook.