The Evans School is proud to welcome two new faculty members to the Evans School community for the 2021-22 academic year. Dr. Sebawit G. Bishu and Isabelle M. Cohen are both highly accomplished scholars and educators who will significantly enhance the Evans School's offerings and add great vibrancy to the Evans School community.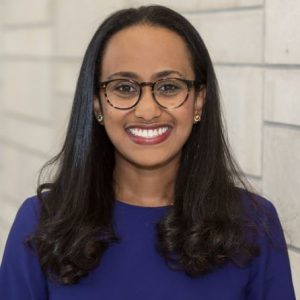 Sebawit G. Bishu, Ph.D. 
Sebawit G. Bishu is currently an Assistant Professor at the University of Colorado Denver, School of Public Affairs. She also holds a non-resident fellow appointment at Harvard Kennedy School of Government, Women and Public Policy Program (WAPPP).
Bishu's research centers around making government effective and equitable through conscious and ethical public management practice. Her work aims at understanding and improving the circumstances under which government provides equitable opportunity to all its workforce and equitable service outcome to citizens. Bishu is passionate about improving women's and racial minority group's participation in decision-making roles in government in Africa and the United States.
Isabelle M. Cohen 
Isabelle Cohen's research focuses on understanding technological and organizational innovations in developing countries. She partners with governmental and non-governmental organizations to rigorously evaluate new programs, policies and procedures, using tools such as randomized evaluations, administrative data analysis, geocoding and machine learning techniques. Much of her current research is focused in Uganda, although she has worked and done research in many other countries, including India, Peru and Greece.
Cohen will receive her Ph.D. in Economics from the University of California, Berkeley in May 2021. She received her Master's in Public Policy from the College of William & Mary in 2012, and her B.A. in International Relations from the same university in 2011.
Many thanks to the dedicated work of the Search Committee Chairs and all who served on the search committees for their careful reviews, engaged participation, and generous welcome toward the candidates.