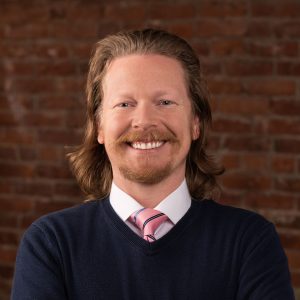 Grant Blume
Associate Teaching Professor;
Undergraduate Program Director
Grant Blume is a teaching faculty member at the Evans School of Public Policy & Governance and currently serves as the Evans School's Director of Undergraduate Programs. Grant teaches courses on policy analysis, program evaluation, and research methods at the undergraduate, graduate, and doctoral level. He brings a racial equity lens to much of his teaching and invites students to center anti-racism approaches in their public policy studies.
Grant's current research agenda focuses on the intersections among public management, public policy, social equity, and institutional racism. His present research projects include theoretical work around racialized administrative power as the status quo in American public administration, the need to better define environmental justice's conceptual constructs, and how Targeted Universalism can inform policy analysis focused on social structures and institutions.
Grant serves as a Co-Principal Investigator and the Deputy Director for Policy Analysis at the University of Washington's Earthlab Nippon Foundation Ocean Nexus Center. In this role Grant supervises a policy analysis and research lab at the Evans School (comprising primarily Evans School PhD students) and supports professional development activities for a worldwide network of Ocean Nexus fellows.
Grant is the Principal Investigator of a four-year (2019-2023) National Science Foundation Advanced Technological Education (ATE) research grant (Award # 1902019). He serves, or has served, as the external evaluator for National Science Foundation grants and workforce development grants awarded by the U.S. Department of Labor.
Professionally, Grant engages in racial equity consulting work as a qualified administrator of the Intercultural Development Inventory (IDI), an instrument that serves as a catalyst for assessing and developing intercultural skills. Prior to his faculty appointment at the Evans School, Grant's professional experience included public service as a college admissions officer and as a legislative aide for a member of Congress in Washington, D.C.
Recipient of the 2022 Excellence in Instruction Award, awarded by the Evans School's Evans Student Organization (ESO)Recipient of the 2020 Dean's Teaching Award
Recipient of the 2017 Excellence in Instruction Award, awarded by the Evans School's Evans Student Organization (ESO)
Recipient of the National Association for College Admission Counseling's 2015 Excellence in Government Relations Award
Winner of the 2014 Wilder Award for Social Equity and Public Policy  (for 2013 paper co-authored with Mark Long)
Semi-finalist, Spencer Foundation Doctoral Fellowship, 2014
Winner of the Evans School's 2010 Pealy Prize for an Outstanding MPA Degree Project
Research & News Highlights