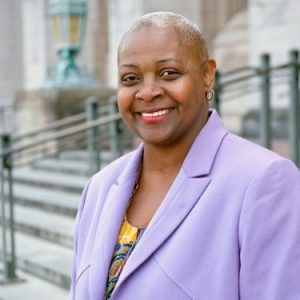 University of Washington President Ana Mari Cauce and Provost Mark A. Richards announced the selection of Sheila Edwards Lange, president of Seattle Central College, as chancellor of the University of Washington Tacoma. Her appointment, pending approval by the UW Board of Regents, is set to begin September 16, 2021.
Edwards Lange has many years of experience in higher education and she is well known throughout the UW, having served as the vice president for Minority Affairs and Diversity from 2007 to 2015. As president of Seattle Central College, Edwards Lange leads all college operations, including instruction, student services, fiscal resources, human resources, facilities and community relations. She works closely and collaboratively with leadership across the Seattle College District to ensure students receive high quality and responsive education and services.
"I was attracted to UW Tacoma's urban-serving mission, commitment to equity, diversity and inclusion, and its stellar academic programs. That unique combination has enabled UW Tacoma to be an active partner in economic development and prosperity in the South Sound," Edwards Lange said. "I am excited about being part of this work and look forward to leading the institution at this critical time in its history."
Edwards Lange earned her doctorate in educational leadership and policy studies, as well as her master's in public administration – from the Evans School of Public Policy & Governance in 2000 – and her bachelor's degree from the University of California, Irvine. She began her career at Western Washington University, before taking on leadership roles at Seattle Community Colleges. While earning her doctorate at the UW, she developed research and teaching interests in higher education policy, diversity in higher education, assessment and program evaluation, and underrepresented student access STEM fields. She taught a graduate level course on race and public policy for several years in the UW Evans School.